Photo Courtesy of Victoria and Albert Museum,London Installation view of Cabinet of Curiosities
Nach dem großen Erfolg im New Yorker Metropolitian Museum of Art von 2011, zu der über 600.000 Besucher kamen zieht die Ausstellung um Designer Ikone Alexander McQueen nun weiter und öffnet seine Tore in London im Victoria & Albert Museum. Seit gut 12 Tagen hat die Ausstellung um eine der bedeutenster Modedesigner der Welt hier geöffnet und zeigt rund 240 Modestücke und Accessoires. Aus der Zeit als McQueen sein Studium am Central Saint Martins abschloss (1992) bis hin zu seinen letzten Designentwürfen vor seinem Tod im Jahr 2010. Die Art der präsentation der Ausstellung reflektiert McQueen's romantische sensibilität und hinterfragt die zentralen Ideen und Konzepte seiner Arbeit. Dies beinhaltet seine umtriebige/ rebellische Art des schneiderns, seine gothische sensibilität, primitivität und tierische welt, Erbe und Herkunft, Natur und die ursprüngliche Welt, Technik und Handarbeit. Sarah Burton, ist Creative Directorin von McQueen und ist in die Fußstapfen des Designern geschlüpft und sagt selbst: "Savage Beauty is a celebration of the most imaginative and talented designer of our time. Lee was a genius and a true visionary who pushed boundaries, challenged and inspired. He believed in creativity and innovation and his talent was limitless." Ein Highlight bildet zu dem auch das Kabinett der Kuriositäten, welches in einer großen Gallerie altes Filmmaterial von McQueens Catwalk Shows zeigt, die in Zusammenarbeit mit Hutmacher Philip Treacy und Juwelier Shaun Leane enstanden sind.
Savage Beauty
14.März – 02.August 2015
Cromwell Road
London SW7 2RL
Öffnungszeiten:
10.00 – 17.45 Uhr täglich
10.00 – 22.00 Uhr Freitags

Photo Courtesy of Alexander McQueen, Tulle and lace dress with veil and antlers Widows of Culloden AW 2006-07 Image firstVIEW / Marc Hom, Portrait of Alexander McQueen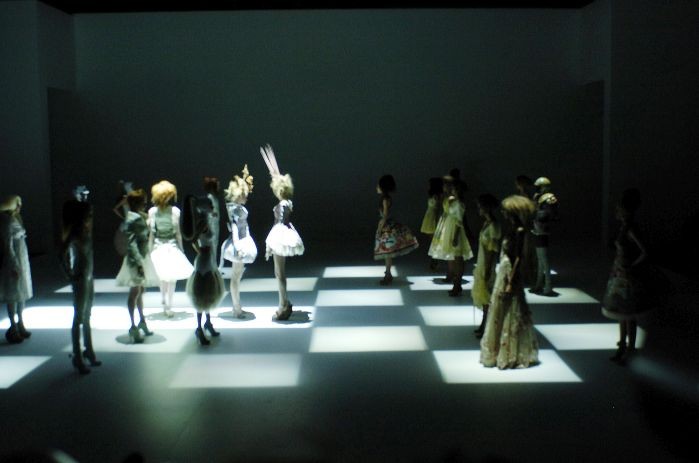 Photo Courtesy Image firstVIEW. Its Only a Game SS 2005.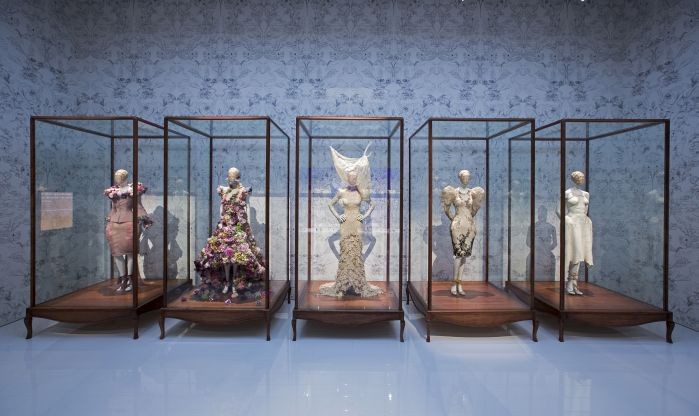 Photo Courtesy  Victoria and Albert Museum, London. Installation view of Romantic Naturalism gallery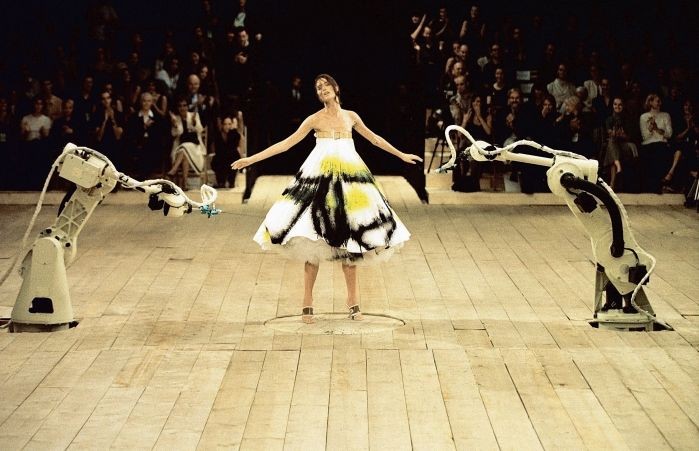 Photo Courtesy Spray painted dress No.13 SS 1999 Model -Shalom Harlow represented by dna model management New York Image -Catwalking